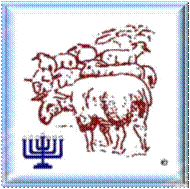 Messiah is Son of David
and Son of God
by Rachmiel Frydland
​
The Messiah was to descend from the seed of Eve, of Seth, of Abraham, Isaac and Jacob, and of Judah and Jesse.
​
The Messianic "baton" now passes to Jesse's son David. This is confirmed by the following word spoken by Nathan, the prophet, and directed toward David: And when thy days be fulfilled, and thou shalt sleep with thy fathers, I will set up thy seed after thee, which shall all proceed out of thy bowels, and I will establish his kingdom. He shall build a house for my name... .(1)
​
The immediate cause for this prophecy was David's desire to build a "house for the Lord." He communicated this desire to Nathan, who was inclined to agree that David should build the temple. Nevertheless, contrary to David and Nathan's desire, God spoke through Nathan and said, "No." God's reasoning for not selecting David to build the Temple was that David was a warrior and had "shed blood abundantly."(2) Instead, it was David's son, Solomon, " the man of Shalom " (peace), who was destined to build God's house. Nathan's prophecy, however, extends much farther than the building of an earthly home to house the Ark of God. Nathan continued: I will establish the throne of his kingdom for ever. I will be his father and he shall be my son. ... And thine house and thy kingdom shall be established forever before thee. (3)
​
This prophecy did not find fulfillment even in David's son, Solomon. Solomon did not reign as king forever. In fact, Solomon is well known as the king who committed many sins by marrying pagan wives and succumbing to their idolatrous influence. (4)
​
The eternal throne would be held by Messiah himself, who would establish eternal peace. The prophets who spoke centuries after David's death, when speaking of the latter days, often invoked the name of David as a reference to this Messiah. For example, the prophet Hosea said, Afterward shall the children of Israel return [to their land], and seek the Lord their God, and David their king ... in the latter days. (5) Since David was no longer alive, it is obvious that the prophet is speaking of the "greater David" - the Messiah. Similarly, the Lord spoke through Ezekiel saying,
... And I will set up one shepherd over them ...even my servant David... a prince among them. ... (6)

The prophet Amos recognized the need to "raise up the tabernacle of David."(7)

And, of the latter days, the prophet Jeremiah assigned the ineffable name to this Branch of David when he prophesied, I will raise unto David a righteous Branch … and this is the name whereby He shall be called, Adonai Tseidkeynu (The Lord our Righteousness). (8)
​
Finally, the prophet Micah confirms that Bethlehem, the birthplace of David, will also be the birthplace of the "greater David," when he was inspired of the Ruach HaKodesh to speak: But thou, Bethlehem Ephra-tah, though thou be little among the thousands of Judah, yet out of thee shall he come forth unto me that is to be the ruler in Israel; whose goings forth have been from of old, from everlasting. (9)
​
The prophet here could not have been speaking of David since this "ruler" is one who was "from everlasting." Also, the prophet speaks of the future and David was dead and buried by the time Micah spoke.
​
The Psalmist, Ethan the Ezrahite, also recognized that the throne referred to in Nathan's prophecy was not simply an earthly throne but one which would be occupied eternally by a "greater David": ...I will make him my firstborn, higher than the kings of the earth. ...His seed also will I make to endure forever, and his throne as the days of heaven. ...My covenant will I not break... . I will not lie unto David. His seed shall endure forever, and his throne as the sun before me. It shall be established forever as the moon, and as a faithful witness in heaven. (10)
​
The Psalmist here is no doubt longing for the "greater David. " For he was expecting a Messiah who would endure forever, and who is God's firstborn. A Midrashic portion has this comment about the psalm: Rabbi Nathan said that God spoke to Israel, saying, As I made Jacob firstborn for it is written Israel is my son even my firstborn (Exodus 4:22), so also will I make Messiah my Firstborn as it is written, I will make him my Firstborn. Psalm 89:27) (11)
​
Accordingly, Messiah is both David's descendant and God's begotten Son. This is a most amazing revelation, yet not one that was confined to this psalm. Other scriptures reveal details about the fact of the sonship of the Messiah. Another psalm tells us that Messiah, God's begotten Son, will rule the nations and they will worship him; otherwise they will be punished.
​
Why do the nations rage... against the Lord, and against his anointed... ?
... Yet have I set my king upon my holy hill of Zion. I will declare the decree :
The Lord hath said unto me, Thou art my Son; this day have I begotten thee.
...Kiss the Son, lest he be angry, and yet perish from the way when his
wrath is kindled but a little. (12)
​
Agur Ben Yakeh, one of the writers of a portion of the Book of Proverbs, further identifies Messiah as the Son of God when he poses a riddle:
Who hath ascended up into heaven, or descended?
...Who hath established all the ends of the earth?
What is his name and what is his Son's name, if thou can tell? (13)
​
The prophet Isaiah who lived several centuries after David also referred to the Son of God who would sit upon the throne of David forever when he said: For unto us a child is born, and unto us a son is given. ... Of the increase of his government and peace there shall be no end, upon the throne of David, and upon his kingdom, to order it, and to establish it with justice and with righteousness from henceforth even forever. (14)
​
Finally, the prophet Daniel saw in the night visions of the Messianic Son coming with the clouds of heaven (15): And there was given him dominion, and glory, and a kingdom, that all peoples, nations, and languages should serve him; his dominion is an everlasting dominion which shall not pass away, and his kingdom that which shall not be destroyed. (16)
Messiah was to be the Son of David. He was also to be the Son of God.

This concept has puzzled the rabbis from the first century down to this very day.
​
References:
(1) II Samuel 7:12-13 (2) I Chronicles 22:8 (3) II Samuel 7:13-14,16 (4) I Kings 11:3-6 (5) Hosea 3:5 (6) Ezekiel 34:23-24 (7) Amos 9:12 (8) Jeremiah 23:5-6 (9) Micah 5:2 (10) Psalm 89:27,29,34-37.(11) Midrash Rabbah Shemot 19. Jewish commentators interpret the psalmic passage as Messianic. They note rightfully that the faithful witnesses in heaven are the sun and the moon mentioned in the psalm. Hence, they link it to a prophecy in the book of Jeremiah where God takes the sun, moon and stars to be witnesses before him that Israel will endure forever (Jeremiah 31:35-36). These same witnesses testify that Messiah is the first begotten of God and that He will endure forever.(12) Psalm 2:1-2, 6-7. This warning to obey God's anointed (which is fairly translated Messiah), also here described as Son, is likewise conveyed in the Deuteronomy prophecy previously discussed in Chapter Seven, where the Messiah is described as a prophet "like unto Moses," and "whosoever will not hearken unto my words which he shall speak ... I will require it of him." (Deuteronomy 18:19) The warning also attaches to a scripture in the book of Exodus where the Messiah is revealed as the Angel of the Lord: "Behold I send an Angel before thee to keep thee in the way. ... Beware of him and obey his voice, provoke him not.." (Exodus 23:20-21) (13) Proverbs 30:4 (14) Isaiah 9:6-7 (15) Daniel 7:13 (16) Daniel 7:14
What The Rabbis Know About the Messiah by Rachmiel Frydland
Reprinted With Permission of the Messianic Literature Outreach


For further information contact
​
To Return To: L'Chaim -To Life! Page
To return to Torah, Talmud, Midrash, Biblical Discussion Articles

To return to Menorah's Web Page