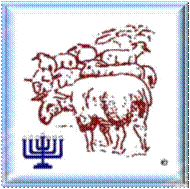 Jesus Christ is God
There is only one God
Sh'ma, Yisra'el! ADONAI Eloheinu,
ADONAI echad [Hear, Isra'el! ADONAI our God, ADONAI is one] D'varim/Deuteronomy 6:4
-Old Testament Passages (Adonai=Ahdohni/Lord God)
-Yesha'yahu/Isaiah 7:14 -Therefore Adonai himself will give you people a sign: the young woman will become pregnant, bear a son and name him 'Immanu El [God is with us]. .
-Yesha'yahu/Isaiah 9:6 -For a child is born to us, a son is given to us; dominion will rest on his shoulders, and he will be given the name Pele-Yo'etz El Gibbor Avi-'Ad Sar-Shalom [Wonder of a Counselor, Mighty God, Father of Eternity, Prince of Peace],
-Yirmeyahu/Jeremiah 23:5-6 -"The days are coming," says ADONAI when I will raise a righteous Branch for David. He will reign as king and succeed, he will do what is just and right in the land. In his days Y'hudah will be saved, Isra'el will live in safety, and the name given to him will be ADONAI Tzidkenu [ADONAI our righteousness].
-Mikhah/Micah 5:2 -But you, Beit-Lechem near Efrat, so small among the clans of Y'hudah, out of you will come forth to me the future ruler of Isra'el, whose origins are far in the past, back in ancient times.
-Mal'akhi/Malachi 3:1-2 -"Look! I am sending my messenger to clear the way before me; and the Lord, whom you seek, will suddenly come to his temple. Yes, the messenger of the covenant, in whom you take such delight - look! -----Here he comes," says ADONAI-Tzva'ot. But who can endure the day when he comes? Who can stand when he appears? For he will be like a refiner's fire, like the soap maker's lye.
-Tehillah/Psalm 2:11-12- Serve ADONAI with fear; rejoice, but with trembling. Kiss the son, lest he be angry, and you perish along the way, when suddenly his anger blazes. How blessed are all who take refuge in him.
-Tehillah/Psalm 45:1, 6-7 -For the leader. Set to "Lilies." By the descendants of Korach. A maskil. A lovesong: My heart is stirred by a noble theme; I address my verses to the king; My tongue is the pen of an expert scribe. ...Your throne, God, will last forever and ever; you rule your kingdom with a scepter of equity. You have loved righteousness and hated wickedness. Therefore God, your God, has anointed you with the oil of joy in preference to your companions.
-Tehillah/Psalm 110:1-3 -A psalm of David: ADONAI says to my Lord, "Sit at my right hand, until I make your enemies your footstool." ADONAI will send your powerful scepter out from Tziyon, so that you will rule over your enemies around you. On the day your forces mobilize, your people willingly offer themselves in holy splendors from the womb of the dawn; the dew of your youth is yours.
New Testament Passages
-Mattityahu/Matthew 1:23-"The virgin will conceive and bear a son, and they will call him `Immanu El."a (The name means, "God is with us.")
-Mark 2:5-11-Seeing their trust, Yeshua said to the paralyzed man, "Son, your sins are forgiven." Some Torah-teachers sitting there thought to themselves, "How can this fellow say such a thing? He is blaspheming! Who can forgive sins except God?" But immediately Yeshua, perceiving in his spirit what they were thinking, said to them, "Why are you thinking these things? Which is easier to say to the paralyzed man? `Your sins are forgiven'? or `Get up, pick up your stretcher and walk'? But look! I will prove to you that the Son of Man has authority on earth to forgive sins." He then said to the paralytic, "I say to you: get up, pick up your stretcher and go home!"
-Luke 5:20-24-When Yeshua saw their trust, he said, "Friend, your sins are forgiven you." The Torah-teachers and the P'rushim began thinking, "Who is this fellow that speaks such blasphemies? Who can forgive sin except God?" But Yeshua, knowing what they were think ing, answered, "Why are you turning over such thoughts in your hearts? Which is easier to say? `Your sins are forgiven you'? or `Get up and walk'? But look! I will prove to you that the Son of Man has authority on earth to forgive sins." He then said to the paralytic, "I say to you: get up, pick up your mattress and go home!"
-Yochanan/John 1:1-3, 14 -In the beginning was the Word, and the Word was with God, and the Word was God. He was with God in the beginning. All things came to be through him, and without him nothing made had being.
-Yochanan/John 1:18-No one has ever seen God; but the only and unique Son, who is identical with God and is at the Father's side -- he has made him known.
-Yochanan/John 5:17-26-But he answered them, "My Father has been working until now, and I too am working." This answer made the Judeans all the more intent on killing him -- not only was he breaking Shabbat; but also, by saying that God was his own Father, he was claiming equality with God. Therefore, Yeshua said this to them: "Yes, indeed! I tell you that the Son cannot do anything on his own, but only what he sees the Father doing; whatever the Father does, the Son does too. For the Father loves the Son and shows him everything he does; and he will show him even greater things than these, so that you will be amazed. Just as the Father raises the dead and makes them alive, so too the Son makes alive anyone he wants. The Father does not judge anyone but has entrusted all judgment to the Son, so that all may honor the Son as they honor the Father. Whoever fails to honor the Son is not honoring the Father who sent him. Yes, indeed! I tell you that whoever hears what I am saying and trusts the One who sent me has eternal life -- that is, he will not come up for judgment but has already crossed over from death to life! Yes, indeed! I tell you that there is coming a time -- in fact, it's already here -- when the dead will hear the voice of the Son of God, and those who listen will come to life. For just as the Father has life in himself, so he has given the Son life to have in himself.
-Yochanan/John 8:57-59-"Why, you're not yet fifty years old," the Judeans replied, "and you have seen Avraham?" Yeshua said to them, "Yes, indeed! Before Avraham came into being, I AM!" At this, they picked up stones to throw at him; but Yeshua was hidden and left the Temple grounds.
-Yochanan/John 10:28-39-and I give them eternal life. They will absolutely never be destroyed, and no one will snatch them from my hands. My Father, who gave them to me, is greater than all; and no one can snatch them from the Father's hands. I and the Father are one." Once again the Judeans picked up rocks in order to stone him. Yeshua answered them, "You have seen me do many good deeds that reflect the Father's power; for which one of these deeds are you stoning me?" The Judeans replied, "We are not stoning you for any good deed, but for blasphemy -- because you, who are only a man, are making yourself out to be God [Hebrew: Elohim]." Yeshua answered them, "Isn't it written in your Torah, `I have said, "You people are Elohim' "?h If he called `elohim' the people to whom the word of Elohim was addressed (and the Tanakh cannot be broken), then are you telling the one whom the Father set apart as holy and sent into the world, `You are committing blasphemy,' just because I said, `I am a son of Elohim'? "If I am not doing deeds that reflect my Father's power, don't trust me. But if I am, then, even if you don't trust me, trust the deeds; so that you may understand once and for all that the Father is united with me, and I am united with the Father." One more time they tried to arrest him, but he slipped out of their hands.
-Yochanan/John 20:27-28-"Then he said to T'oma, "Put your finger here, look at my hands, take your hand and put it into my side. Don't be lacking in trust, but have trust!" T'oma answered him, "My Lord and my God!"
-Romans 9:5-"...the Patriarchs are theirs; and from them, as far as his physical descent is concerned, came the Messiah, who is over all. Praised be ADONAI forever! Amen. Christ came, who is over all, the eternally blessed God. Amen"
-Philippians 2:5-8-Let your attitude toward one another be governed by your being in union with the Messiah Yeshua: Though he was in the form of God, he did not regard equality with God something to be possessed by force. On the contrary, he emptied himself, in that he took the form of a slave by becoming like human beings are. And when he appeared as a human being, he humbled himself still more by becoming obedient even to death - death on a stake as a criminal!
-Colossians 1:15-16-He is the visible image of the invisible God. He is supreme over all creation, because in connection with him were created all things - in heaven and on earth, visible and invisible, whether thrones, lordships, rulers or authorities - they have all been created through him and for him.
-Colossians 2:8-10-Watch out, so that no one will take you captive by means of philosophy and empty deceit, following human tradition which accords with the elemental spirits of the world but does not accord with the Messiah. For in him, bodily, lives the fullness of all that God is. And it is in union with him that you have been made full - he is the head of every rule and authority.
-1 Timothy 1:16-17-But this is precisely why I received mercy - so that in me, as the number one sinner, Yeshua the Messiah might demonstrate how very patient he is, as an example to those who would later come to trust in him and thereby have eternal life. So to the King - eternal, imperishable and invisible, the only God there is - let there be honor and glory for ever and ever! Amen.
-1 Timothy 2:3-4-This is what God, our Deliverer, regards as good; this is what meets his approval. He wants all humanity to be delivered and come to full knowledge of the truth.
-1 Timothy 3:16-Great beyond all question is the formerly hidden truth underlying our faith: He was manifested physically and proved righteous spiritually, seen by angels and proclaimed among the nations, trusted throughout the world and raised up in glory to heaven.
-1 Timothy 6:14-16-to obey your commission spotlessly and irreproachably until our Lord Yeshua the Messiah appears. His appearing will be brought about in its own time by the blessed and sole Sovereign, who is King of kings and Lord of lords, who alone is immortal, who dwells in unapproachable light that no human being has ever seen or can see - to him be honor and eternal power. Amen.
-Titus 1:3-but made public this word of his in its own season through a proclamation with which I have been entrusted by order of God, our Deliverer.
-Titus 2:10-or pilfering. On the contrary, they should demonstrate complete faithfulness always, so that in every way they will make the teaching about God our Deliverer more attractive.
-Titus 2:13-while continuing to expect the blessed fulfillment of our certain hope, which is the appearing of the Sh'khinah of our great God and the appearing of our Deliverer, Yeshua the Messiah.
-Messianic Jews/Hebrews 1:1-3-In days gone by, God spoke in many and varied ways to the Fathers through the prophets. But now, in the acharit-hayamim, he has spoken to us through his Son, to whom he has given ownership of everything and through whom he created the universe. This Son is the radiance of the Sh'khinah, the very expression of God's essence, upholding all that exists by his powerful word; and after he had, through himself, made purification for sins, he sat down at the right hand of HaG'dulah BaM'romim.
-Messianic Jews/Hebrews 1:8-but to the Son, he says, "Your throne, O God, will last forever and ever; you rule your Kingdom with a scepter of equity;
-Y'hudah/Jude 24-25-Now, to the one who can keep you from falling and set you without defect and full of joy in the presence of his Sh'khinah to God alone, our Deliverer, through Yeshua the Messiah, our Lord be glory, majesty, power and authority before all time, now and forever. Amen
-Revelation 21:6-7-And he said to me, "It is done! I am the 'A' and the 'Z,' the Beginning and the End. To anyone who is thirsty I myself will give water free of charge from the Fountain of Life. He who wins the victory will receive these things, and I will be his God, and he will be my son.
​
To Return To: THE REAL YESHUA/JESUS PAGE
To Return To: MENORAH'S HOME PAGE