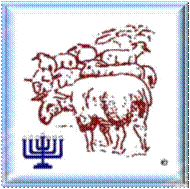 ASK PASTOR REUBEN
Kingdom of Heaven suffers
violence and the violent
take it by force?
S H A L O M !
_______ A MESSIANIC JEWISH SCRIPTURAL VIEW ______
​
Biblical Question:
Dear Pastor Reuben,
​
I have been reading some of the articles from the Menorah home page that are very interesting, I have some questions that I would like to ask you. I am a Christian believer who is beginning to see a missed richness in our generally accepted faith today in the church.
​
I may be wrong however, it seems that there are sayings and doctrines that we do not perhaps fully understand in a modern western society, one I have no idea about is the 'kingdom of Heaven suffers volience and the violent take it by force', if you know the explanation to this I would dearly love to know it.
Thanks, Graham
​
Pastor Reuben's Answer:
​
Shalom Graham,
​
I understand that the reference to Matt. 11:12 "violence, etc." means a personal breaking through the opposing multitude, in order to enter in through the narrow door. Which was in opposition to the many, the Pharisees and Jews generally, who were seeking to enter in, in their own way, never doubting success, but who would discover their terrible mistake.
When we remember, that in the Sermon on the Mount, the call was only to 'enter in', we feel that we have now reached a period, when the access to the 'narrow door' was obstructed by the enmity of so many, and when it needed "violence" to break through, and 'take the Kingdom' 'by force'. Please read this whole section and see then that the Lord will say He knows not some who got close to 'in' but He knows them not.
​
It is a struggle to correctly enter not by the wide door, by the narrow door provided by God.
Hope this helps your walk with the Lord.,
​
Pastor Reuben
​
Questions are welcome from ALL readers at ALL levels and Forums, from everyone. Questions of general interest will be considered for inclusions in this column. Those of a more personal nature will be keep confidential and we will answer via e-mail; always state your name, email address and your comment/question in as brief & precise manner as possible.
​
To submit a question, etc. please address it to reuben@menorah.org
ask.....ask......ask
To return to ..... Ask Pastor Reuben Biblical
Answers To Asked Questions.....
To return to
To Life L'Chaim Find Eternal Life Page
To return to Menorah's Web Page