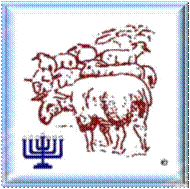 Ask Re'uben
Is the Biblical Menorah
only a Jewish symbol?
S H A L O M !
_______ A MESSIANIC JEWISH SCRIPTURAL VIEW _______
​
Biblical Question:
​
Is the Biblical Menorah only a Jewish symbol?
Our Question
Jermiah. G from Florida asks:
Dear Pastor Reuben,
What really is the menorah to you as a Messianic Believer in Yeshua (Jesus)? Is it right for you (& me) to use this Jewish Biblical symbol? Can the Christian properly use this symbol?
Thank you.
​
Pastor Reuben's Answer:
​
The Tabernacle's golden lamp-stand, the menorah (Exodus 25:31-37) was a constant testimony to the priests that they must not walk in the light of man's wisdom or human nature but that they could fulfill the service of God only as they walk in the light provided by Him. The seven post menorah was both a light and a light bearer, a symbol of faith and hope.
​
The menorah is a symbol of the Church as a light bearer in the world. Our Lord Jesus said:
You are the light of the world Matthew 5:15
Be dressed in readiness,& keep your lamps (lights) shining Luke 12:35
You appear as lights in the world Philippians 2 :15
​
Believers in Jesus the Messiah are to reflect His light, even as He was and is the Light. The menorah is a perfect, fitting and divine symbol of our Lord.
​
He was the true light which, coming into the world, enlightens every man John 1:9 David in Psalm 36:9 says, In thy light shall we see light. Whether it is direct light from Jesus, or diffused light through the Christian, all light is given to us for perception. In Jesus the Messiah's light, we shall truly see light!
​
In Messiah Jesus-Yeshua, blessings and purpose!
​
Questions are welcome from ALL readers at ALL levels and Forums, from everyone. Questions of general interest will be considered for inclusions in this column. Those of a more personal nature will be keep confidential and we will answer via email; always state your name, Email address and your comment/question in as brief & precise manner as possible.
​
To submit a question, etc. please address it to reuben@menorah.org
ask.....ask......ask.....ask.....ask.....ask......ask.....ask.....ask.....ask
​
To Go To
Menorah's Planned Giving Web Page
To return to .....
Pastor Reuben's Answers To Asked Questions.....
​
To return to Menorah's Web Page