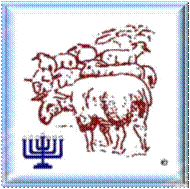 Ask Re'uben
Does a Jew stop
being Jewish when
they believe in Jesus?
S H A L O M !
_______ A MESSIANIC JEWISH SCRIPTURAL VIEW _______
​
Biblical Question:
​
T. H. from Denver asks:
​
Dear Pastor Reuben,
Recently I was told by a rabbi and several other people that I was no longer a Jew because of my having accepted Yeshua (Jesus) as Lord & Savior. As a Believer in Jesus as Messiah I know they are wrong but, can you help me?
​
Pastor Reuben's Answer:
​
Dear T.H., shalom,
​
First let us understand that people are born by the flesh into one cultural ethnic group or another due to no choice of their own. Second, a spiritual faith system is something a person chooses for themselves. A Jew does not give up their Jewish Heritage, culture and identity when they accept the Messiah Jesus. Rather, they gain important Jewish values; atonement as described by Moses, Israel's promised Messiah, and a personal relationship with the God of Abraham, Isaac and Jacob. So they do not give up; they gain. They do not lose their Jewishness, they intensify it in a Biblical way. They become a Messianic Jew, a Jewish follower of the Jewish Messiah promised by the Jewish Scriptures. Remember the Jewishness of the Biblical faith. (see John 4:22; Romans 9:4-5; and 11:11-27; Acts 26:6-7) The authors of Scripture were Jewish, as were Jesus and the apostles. And they all, including the "Jew of Jews" Paul, retained their Jewishness. (Acts 2:26, 3:1, 21:21-26, 22:3; 28:17; I Cor. 7:18)
​
This does not mean that a Gentile becomes a Jew when he believes in Jesus, but neither does a Jew stop being Jewish when he accepts the Messiah.
​
Source and reference:
The Bible (Old & New Covenants)
The Olive Tree Connection by Dr. John Fischer.
Jews & Jesus by Zola Levitt

In His service,
​
Pastor Reuben
​
Questions are welcome from ALL readers at ALL levels and Forums, from everyone. Questions of general interest will be considered for inclusions in this column. Those of a more personal nature will be keep confidential and we will answer via e-mail; always state your name, email address and your comment/question in as brief & precise manner as possible.
​
To submit a question, etc. please address it to reuben@menorah.org
ask.....ask......ask
To return to ..... Ask Pastor ReubenBiblical
Answers To Asked Questions.....
To return to To Life L'Chaim Find
To return to Menorah's Web Page