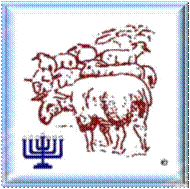 Salvation Testimony
of Messianic Jewish-Russian
Pastor Anatoliy Odnoralov
​
I was born in 1963 in the Ukraine, in the city of Maveerka. My parents were Believers. Since early childhood I knew about God the Savior. At school I learned the price of our faith in the Living God. My home-room teacher set the class against me and against my will initiated me into the Oktobrists (Children of the October Revolution). During this initiation I was punched in the nose and was left bleeding. My father was often called in and threatened that his children would be taken away and put into a state run boarding school.

At the age of 17 I received Jesus as my personal Savior. Our family had 13 children and the local newspapers wrote about us often, saying that we were not being brought up properly, not in the ''spirit of the times.'
​
In 1982 1 was drafted into the army, and sent to Moscow. At the same time my father tragically died. From the first day, after the officers and soldiers found out about my faith in God, they decided to ''reform'' me. Every day I was questioned by the political instructor on suspicion of spying. I was reprimanded and prepared for exile. All of this created a genuine interest toward God in many soldiers; the God I was telling everybody so much about! A criminal case that was initiated against me by the commandant's office was soon closed as many of the soldiers were indignant and took my side.

After my time in the service I was married in 1986, and have a wonderful family with four children. Prior to my depar­ture to the U.S. I lived in Karachaevo, which is in the Cherkess Autonomous Region, where I served as a youth group leader at a local church. Already the Lord had blessed me toward missionary service in starting mobile libraries, telling people about the Lord and having small home Bible studies. I distributed Bibles in our region for the Gideon's and also worked with the "Light of the Gospel'' missionary organization of Rovno.
​
When I came to the U.S. I was worried about being separated from the job that God had given me to do. What I didn't know was that He prepared and sent people here who understand my language but do not know their Messiah. While serving as a deacon at a Russian church, I soon un­derstood that I needed to focus on certain missions among Jewish people with whom the Lord had joined me. And the Lord has been blessing! On August 15, 1998 I was ordained as pastor of Congregation Hope of Israel in Den­ver. I was also head of Russian outreach at Menorah-Menorah Ministries- and the director of the Menorah Russian-Jewish Center in Denver, CO from 1999-2005.
​
To Return To: Salvation Testimonies Page
To Return To: L'Chaim -To Life! Page
To Return To: Menorah's Web Page